Social distancing the byword as GVC prepares to reopen betting shops
Punters visiting Coral and Ladbrokes betting shops when they reopen in England on Monday will be left in little doubt that normal service has not yet been resumed.
Pedestrians passing by the Coral shop on London's Tottenham Court Road late last week will have seen posters in the window telling customers that social distancing will be 'in play' when it opens its doors on June 15.
GVC Holdings plans to open its 2,445 betting shops in England – plus five in the Channel Islands – when the restrictions on non-essential retail are lifted on Monday.
They are still waiting for the go-ahead to follow suit in Wales and Scotland.
GVC chief executive Kenny Alexander said: "We are very pleased to be reopening our shops in England as the UK begins the first steps in returning to some form of normality.
"Ever since the lockdown was introduced, we have been working tirelessly on a plan which will deliver the safest possible environment for both our customers and our people.
"I am confident we have achieved that and look forward to welcoming our customers back in the near future."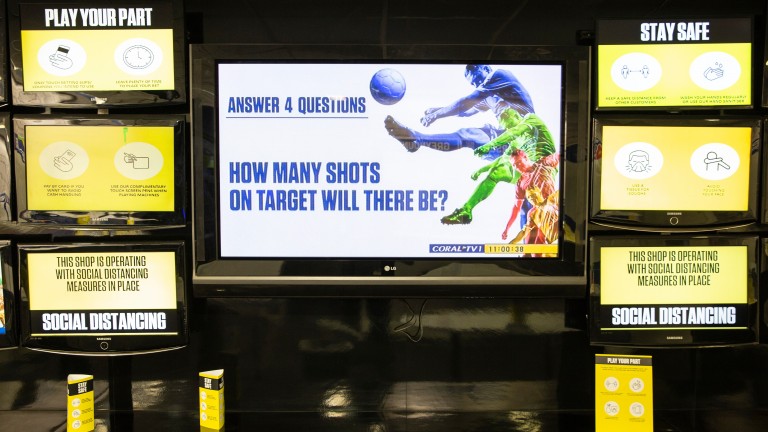 Social distancing messages will greet betting shop customersMatt Alexander/PA Wire
The messaging that will greet those customers will tell them that social distancing is still expected of them, despite the relaxation of lockdown.
Posters in the window will tell them to 'Keep Your Distance' and to 'Stay Safe', as well as informing customers of what to expect inside.
Once within the shop, floor dots will again remind punters to keep their distance from other customers, as will posters and displays around the walls, behind the counter and on gantries.
New 'sneeze screens' have been installed at the counters to protect staff, which are set to become a permanent feature of GVC's shops, while staff will also be given equipment including masks.
GVC's strategy director for UK retail Bejay Patel said: "We are providing all colleagues with access to gloves, masks and visors as well as the changes we are making in-shop to make colleague and customer journeys as safe as possible.
"All resources are being sourced responsibly so as not to compete with essential sectors for supplies."
The rush to get bets on just before the off of a race will have to stop for the time being. Posters will tell customers that they should instead wait to be called to the counter.
Another new feature will be screens installed between individual gaming machines and self-service betting terminals.
Patel said: "We want customers to have access to as many products and services as possible in shops from day one, including gaming machines and self-service betting terminals.
"To facilitate we are aiming to roll out dividers between all terminals where needed by June 15, creating a safer environment for our customers to enjoy our products.
"However, regardless of dividers, to meet social distancing requirements it will not be possible to trade all terminals – for example those in close proximity to the door or counter – and these will be left off. All terminals are being reviewed on a case-by-case basis."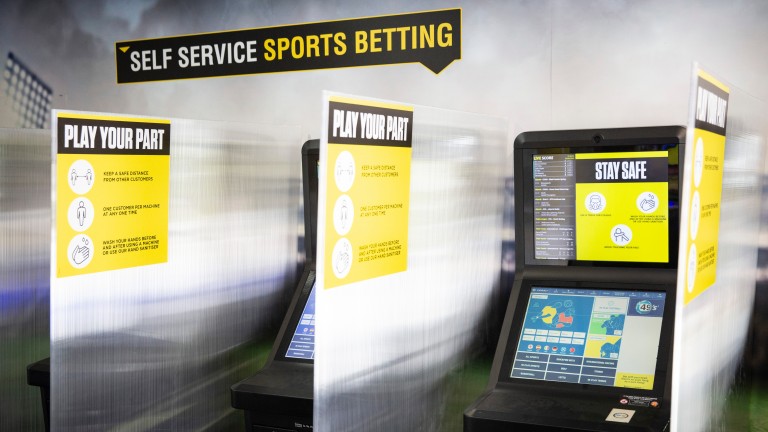 Dividers have been placed between betting shop terminalsMatt Alexander/PA Wire
Customers using the machines will each be given their own stylus to avoid them having to touch the terminals with their hands.
Other hygiene measures will include increased cleaning, no tea or coffee being available, and hand sanitiser by the doors and on the counter.
Customers will be asked to use pens just once before throwing them away, as well as being encouraged to use contactless payment.
GVC is operating a policy of allowing one customer per ten square metres of floor space and 50 per cent of all terminals being occupied.
Staff will regulate numbers by using the magnetic door lock.
A further challenge will be presented by the continued need to continue interactions with potentially vulnerable customers.
Customers wearing masks, for example, will be asked to remove them to allow staff to identify them and check whether they are under-age or self-excluded.
Betting and Gaming Council chief executive Michael Dugher visited the Tottenham Court Road shop and said: "GVC make a significant contribution to the economy, supporting good jobs in communities across the country, and it's great to see at first hand their commitment to ensuring that their reopened shops will provide a safe and enjoyable environment for staff and customers alike."